Hard Boiled Games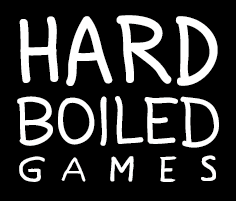 Hard Boiled Games considers itself as a game design studio and publisher of self-developed board game projects.
Hard Boiled Games has been founded in 2014 by Johannes Sich and Daniel Goll prior to the publication of the card game "La Cosa Nostra".
Johannes Sich is illustrator and game designer. In the case of "La Cosa Nostra" he was both author and illustrator. The game was first published due to a crowdfunding campaign. Even after getting funded the game sold very well and has since been published in English, Polish, French and Spanish.
Quite soon Hard Boiled Games became member of Spiel direkt eG in order to make the game available for wholesale and retailers.
2017 the first expansion "Guns For Hire" was published. It extends the base game with 30 whole new cards.
A new project is already in progress and is on schedule for 2019.